Conversion ... voltage gain or attenuation to decibel (dBV).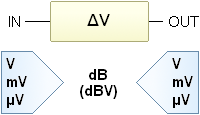 It converts a voltage difference in the corrisponding dB value of gain or attenuation.
Data input
Initial voltage value . . . . . IN
V
Final voltage value . . . OUT
V

Results
Voltage ratio
Gain
dB
Notes.
You can use any measure unit of power but it must be the same for the two inserted numbers.
Some reference levels :
0 dBµV = 1 µV su 75 ohm
0 dBmV = 1 mV su 75 ohm
0 dBm, dBmW = 1 mW
0 dBW = 1 W
Others :
0 dBj = 1 mV
0 dBk = 1 kW
0 dBs = 1 mW
0 VU = 1 mW